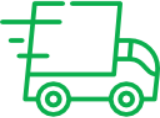 Pickup request
Terms of service "Pick up the turbocharger for repair for FREE":
Collection will take place within two days, if you fill in the form by 14:00 (working day).
Pick-up takes place at your next day from 8:00 to 16:00 via PPL.
The Turbo needs to be properly wrapped on all sides (use the pad on the bottom as well!).
Put a cover letter with a telephone number and a short descriptionof the defect in the box.
After delivery and distribution, our technician will inform you about the price and damage.